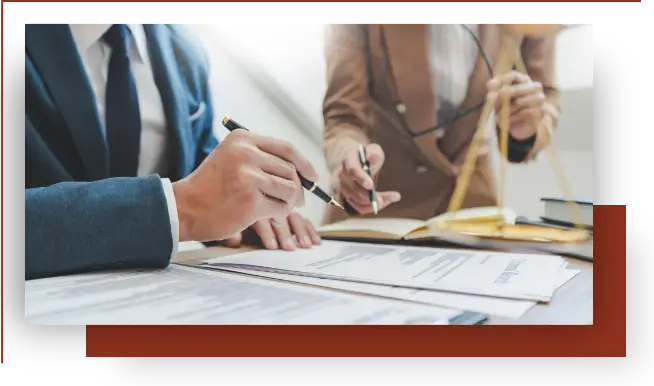 You can count on Haber Blank to approach your legal matter with sensitivity to understanding your needs while developing a smart strategy to meet your goals
Fort Lauderdale Criminal Defense Lawyers
At Haber Blank, LLP, we understand the significance of standing in your corner when you need it the most. We are a comprehensive law firm dedicated to providing high-quality legal representation and counsel for clients in an array of criminal and civil legal matters. With our diverse team of experienced Fort Lauderdale criminal defense lawyers, we bring expertise, dedication, and personal connection to each case we handle.
Renowned Expertise in Criminal Defense
When your freedom is on the line, every decision matters. Led by firm partner Jason B. Blank, our criminal defense practice is well-equipped to guide you through the complexity of the criminal justice system. We offer robust defense strategies for a broad spectrum of crimes, from Domestic Violence and DUI to White Collar crimes, Sex Offenses, and beyond.
Jason B. Blank, a well-known figure in Florida's courts, is recognized for his unwavering commitment to his clients. His solid reputation precedes him in courtrooms statewide and extends all the way to the Florida Supreme Court. Jason builds strong, trusting relationships with his clients, helping them feel understood and respected while tackling their legal challenges head-on.
In our dedicated criminal defense practice, we work to get charges dismissed or reduced where possible, negotiate favorable terms that minimize jail time or avoid it altogether, or provide strong, effective representation in court to obtain an acquittal or not guilty verdict. We take the time to look carefully at your case, review the evidence and available defenses, and craft a strategy to get the best result out of your unique set of circumstances. Reach out to Haber Blank, LLP, if you've been arrested for any of the following crimes in Fort Lauderdale or South Florida:
Domestic Violence
These offenses involve harm or a threat of harm to individuals within a domestic or family relationship. Domestic violence allegations are not always credible, and sometimes the motives of the alleged victim are questionable as well.
Weapons Offenses
Our defense of firearms charges such as unlawful possession could identify illegal searches and other constitutional violations.
Drug Trafficking
We defend people charged with possession with intent to sell or illegal distribution of controlled substances and other drug crimes. Defenses against drug charges include illegal searches, lack of knowledge or intent, and irregularities in police procedures, among others.
DUI
Currently, Florida police make nearly 40,000 DUI arrests every year. Many times, these arrests are based on unlawful stops, inaccurate or subjective tests, or other claims the prosecution simply cannot prove when faced with a strong and knowledgeable defense.
Stand Your Ground/Forcible Felonies
Florida law clearly allows self-defense, even deadly force in appropriate settings, but that doesn't keep people from getting arrested for exercising their lawful rights to protect themselves, their property, and the lives and safety of others. We are here to protect you when you do what's necessary to protect yourself and your family.
Homicide and Assault
Prosecutors must prove more than just harm to another; they must prove an intent to harm. Often prosecutors lack the evidence to establish the element of intent or other critical elements required to prove a crime occurred. People accused of violent crimes could have many defenses available to fight the charges against them.
Theft Offenses
Theft offenses are defined in Florida statutes, and every element of the alleged offense must be proven beyond a reasonable doubt before a defendant can be convicted of a crime. We raise all viable defenses and challenge the prosecutor's case at every turn.
Sex Offenses
Sex offenses most often involve non-consensual sexual acts or exploitation; a possible defense might examine the presence of consent or the credibility of the allegations themselves. We approach sex crime charges with sensitivity and a thorough knowledge of the applicable law.
White-Collar Crimes
Issues such as lack of intent, entrapment, or insufficient evidence can often be brought to attack charges of embezzlement, forgery, fraud, or other white-collar crimes.
Expungement & Sealing
Florida statutes allow for the sealing or expunction of criminal history records so that access to records is highly restricted or records are completely removed from the system and destroyed. We know the process for the many different ways that criminal records, and even domestic violence injunctions, may be sealed or expunged under Florida law. We'll determine whether you are eligible and help you get the fresh start you are ready to make.
Comprehensive Family Law Services
Through firm partner Jason Haber and our team of talented associates, we offer comprehensive services in Family Law. We understand that family-related legal matters can be emotionally taxing. Whether going through an contested or uncontested divorce, seeking enforcement of family law court orders, or dealing with domestic violence injunctions, our team is ready to provide the compassionate and effective legal representation you need and deserve.
Help With Legal Matters Beyond Criminal Defense and Family Law
People throughout Fort Lauderdale, Boca Raton, West Palm Beach, Westin, Plantation, and all across South Florida call on Haber Blank, LLP, for help in a wide range of legal services. Our skilled and knowledgeable team can guide you through probate and estate planning, business transactions, civil and commercial litigation, and a variety of real estate matters, including real estate closings, lease transactions, and landlord-tenant lease disputes. Our staff has the experience and expertise to help you reach your goals, protect your rights, and meet your needs in a variety of legal areas.
Contact Haber Blank Today
At Haber Blank, LLP, we value the trust our clients place in us. We understand that every legal issue is unique, requiring a tailored approach for the best outcome. As your legal partners, we are committed to standing by your side, offering expert guidance and support, to help you navigate through your legal journey. Call our Fort Lauderdale criminal defense attorneys anytime for help with your legal needs, and Haber Blank, LLP, will be there for you.