When Might You Get Charged with a Hate Crime in Fort Lauderdale?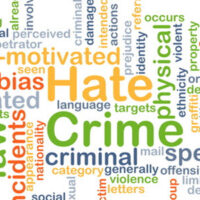 The American population is more divided than ever, with approximately 90% of all residents reporting "strong conflicts" across political, ethnic, and religious lines. This environment means that it has become increasingly easy to be charged with a hate crime. Whether you're concerned about a foreign war or a domestic political party, you must be very careful about how you protest or voice your opinion. One step in the wrong direction could lead to serious legal consequences.
Florida Prepares for a Surge of Antisemitic Hate Crimes 
As the Israeli conflict continues, authorities, politicians, and lawmakers are preparing for an almost inevitable surge of antisemitism. While some instances of antisemitism may not be classified as criminal activity, others may fall under the general category of hate crimes.
Florida Attorney General Ashley Moody has begun warning colleges across the state to prepare for the possibility of crimes against Jews. She is apparently concerned that protests and other pro-Palestinian activities on college campuses could potentially become violent. This is why she is now urging police chiefs responsible for securing these campuses to show "zero tolerance" toward any antisemitism.
This comes a few months after the arrival of new hate crime laws that make these offenses even more serious. The bill was signed by Governor DeSantis back in April of 2023 and was clearly a response to a series of reported anti-semitic incidents across the state. With this new bill signed into law, those who commit acts of antisemitism will be prosecuted to the full extent of the law.
Race-Related Hate Crimes Are Still Common 
Both anti-semetic and race-related hate crimes continue to make headlines. On October 20th, it was reported that a man from Florida had been sentenced to one year in prison for  attempting to run over 6 individuals who identify as black. The individual was accused of shouting racial slurs at the victims while driving his pickup truck toward the individuals and demanding that they leave the area.
It is that last point that is perhaps the most critical in terms of hate crime legislation. If this defendant hadn't screamed racial slurs out of his pickup truck window, he would likely not face hate crime charges. In fact, it is possible that he would have escaped any prison time – perhaps even dodging criminal charges altogether.
Where Can I Find a Qualified, Experienced Criminal Defense Attorney in Fort Lauderdale? 
If you've been searching for a qualified, experienced criminal defense attorney in Fort Lauderdale, look no further than Haber Blank, LLP. We know that it is all too easy to face hate crime charges in the current political environment. Even if you are exercising your right to free speech or your right to protest, you may face these charges. Book your consultation today, get started with an effective defense strategy, and begin fighting for your rights.
Sources: 
foxnews.com/politics/florida-ag-moody-urges-campus-police-chiefs-show-zero-tolerance-anti-jewish-hate-crimes
clickorlando.com/news/florida/2023/10/20/florida-man-sentenced-to-1-year-in-federal-prison-for-trying-to-run-over-6-black-men/